Hello.It is a frog enrolled in Europe.This blog is created for my notes.If you are in Europe from now on, i hope you will be able to help those who are thinking about which bank account to open.
This time, I will explain bunq, the most popular challenger bank in the Netherlands.
What is Bunq?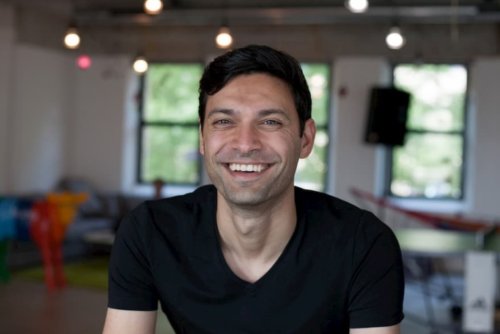 Bunq was founded in Amsterdam, Netherlands by Ali Niknam in 2012 and currently employs about 130 people.Ali Niknam started his own business at the age of 16 (and has since started several companies) and is famous for his young venture stake in the Netherlands.
Frog-kun
While other Challenger banks have received a lot of investment, Bunq has started with Ali Niknam's own business funds.Amazing….
Bunq does not have a physical store and is completely online banking.Approval from the Dutch Central Bank (DNB) in 2015 has seen an increase in subscribers as a major online banking in Europe in recent years.

Frog-kun
Since the Central Bank of the Netherlands (DNB) has approved the banking industry, the Banking Alliance guarantees 100,000€( 12 million yen) even if it goes bankrupt.For more information, please click "Bunq's safety is」
Mr. Rabbit.
In lowercase letters, "bunq" is the same as reading from the front or from behind!
Why is Bunq so popular?
I think that the reason for its popularity is that it is free of monthly fees, and anyone living inEurope can easily open it.
When you are in Japan, it is unusual to have a monthly fee for a bank, but in Europe it is standard that it costs about 5€ per month (about 600 yen) just to have an account.
In addition, so far, overseas immigrants, housewives, students, freelancers… It was not uncommon for people to be judged severely by traditional banks.
Bunq is a passport in as little as 10 minutes and i think you're getting a lot of instructions from users from the ease of being able to open.
Payment is possible at the actual exchange rate!Partnering with TransferWise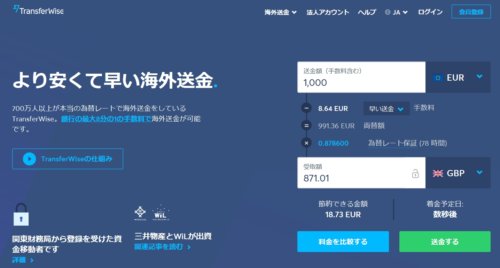 We are now partnering with TransferWise, a world-renowned cheap international money transfer service.
Mr. Rabbit.
Why is Transferwise getting so much attention?
Frog-kun
In the past, when making international remittances, the number of foreign exchange sought by the bank from which the money was sent was the basis.That's why it took nearly 5,000 to 8,000 yen to send the minimum amount.Transferwise's unique system has enabled us to use "actual exchange stake" to deliver remittances up to eight times cheaper than before.
Business accounts can also be opened (freelance and sole proprietors are ok)
Opening a business account can also be used from 9.9€ per month.Freelance and sole proprietors are also available.There is also a system to scan receipts and automatically reflect them, which simplifies and digitizes the management of balances.
Support for the world's forest restoration!Can contribute to the earth
What's interesting about bunq's concept is that you can plant mangroves in Madagascar for every 100€ (about 12,000 yen) card.
We have partnered with Eden Reforestation Projects, an NPO that is engaged in forest regeneration projects, and if you continue to use 1,000€ to about 100,000 yen per month for five years, you can offset the carbon dioxide you are emitted.
Frog-kun
It is an interesting service that a service called "banking" which is familiar to users leads to "natural environmental protection".
Eligible countries
Frog-kun
N26 withdrew in response to Brexit in the UK, but Bunq will continue to be able to open an account in the UK (in February 2020)
Target language
Since we are expanding our service to various countries, we initially only support Dutch, but now we also support English, German, Italian, French and Portuguese.
Frog-kun
In the future, we will continue to expand the language we support in expanding the service region.
Remotecard lock when card is lost
Bunq has the ability to lock cards from within the app with one clickwhen you lose your card.The CVC security code on the back is also not included on the card, and it is confirmed only from the app, and it focuses on the security side.
For more information, please click "Bunq is safe"」
Mr. Rabbit.
It is recommended because it can be easily opened in as little as ten minutes.